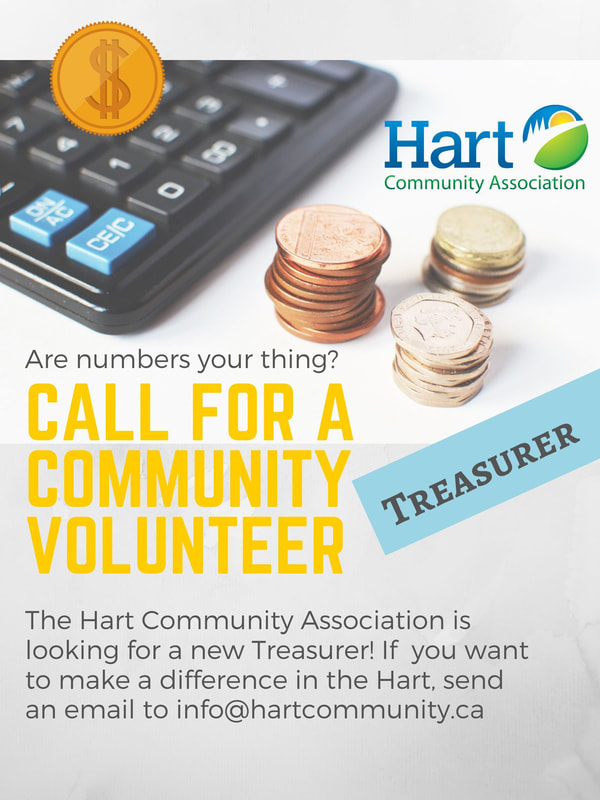 ​
​A Community Association is a volunteer organization established for the primary purpose of organizing recreation opportunities within a geographic area of the city. The Hart Community Association is one of eleven current active Community Associations in Prince George.

The quality and quantity of programs and opportunities offered in your
neighbourhood depends solely on the strength of your local Community
Association, which relies completely on volunteers. It doesn't take a lot of
time to make a big difference in your neighbourhood! Volunteer today!

Visit our Programs page for information on upcoming programs.
​

---

Darren Fitzpatrick Bravery Park ~ Skate Park is now Open

​http://www.ckpg.com/2016/09/24/hart-skate-park-officially-declared-open/


​After years of planning, the Corporal Darren Fitzpatrick Bravery Skate Park in the Hart Community has finally been declared open to the public.

Skaters, bikers, and extreme enthusiasts of all ages flocked to the new stomping grounds Saturday for an afternoon to celebrate in fine fashion. Mayor Lyn Hall is overjoyed to see the community support. "You work so hard to get it done and you go through all of the development phases and all of a sudden to see it and to make it a reality, it's a great feeling."

For nearly half a decade, the Nechako Rotary Club has been fundraising for the park's price tag of 500 thousand dollar. Rotary Member, Ken Pendergast, says the club worked alongside New Line Skate Parks for the design. "One of the things they did was they brought forward the latest in terms of technology relative to a skateboard park, they spent a lot of time talking to the community, the kids, the skaters, and bikers to ensure what we got was what was wanted and necessary today."

The park itself was a necessary asset to the area as Chair of the Hart Community Association, Kristi Francis says new park developments have been scarce for several years. "The Hart actually has the least amount of parks in the whole city, so we've been at the top of the needs list for many years," she said. "It was critical that we had this park developed in our area."

Francis added, the park keeps kids of the streets. "Not everyone can afford sport so parks offer that opportunity for kids from every background to participate in being physical and connecting with one another," she said. "It does keep kids out trouble, it keeps them safe and also connects them to their community so they treat their community with respect and feel apart of their community."

Mayor Hall says more plans will also be in the works for the park. "One of the things we're going to see here, I hope in the very near future is plans for a dog park, plans to have picnic areas, shelters and those kinds of things," he said. "We're going to see a park strategy come forward to Council in a few months and it will outline all of the things we feel we should be doing not only in this area, but throughout the Hart."

As for the skaters, it's something they can't seem to get enough of. "It's awesome, I've been waiting for it forever," said 13 year old Logan Roberson. "It's a good way to come together and build up a relationship with others, it makes me feel happy."

We have set up an account at the Hart Recycle Depot #189 if you would like to recycle your empty cans and bottles..
​Thank you for your support.

Registration Options for Programs

By phone: 250-561-7600

In person: City Hall – Service Centre, Four Seasons Leisure

Pool, and the PG Aquatic Centre

On-line:

pgleisure.princegeorge.ca

The first time registering online a PIN number is needed – this

can easily be found by calling the

250-561-7600.

​Association Meetings
Are you interested in making a
difference in your community? Come and join us at our Association Meetings and be a part of something special!

Where: please email info@hartcommunity.ca to find out location
When: The Hart Community Association meetings are the 3rd Monday of each month at 7pm excluding December. Location : heather park Elementary school multi-purpose room.

​Gratitude
Special thanks to Save On Foods in the Hart for supporting our annual Family
Fun Day at Ferguson Lake. We couldn't do it without you!

Many thanks to the Hart Community Centre for the their gracious donation of chili to our annual Skate with Santa Event. Your generosity is much appreciated!

Thank you to volunteer program leaders, Krista, Connie, Nick, Teddy & Joanne who gave their time to make indoor floor hockey, lego night and outdoor
soccer happen. You are making a difference in your community.